Aurelio and Gigi Dariz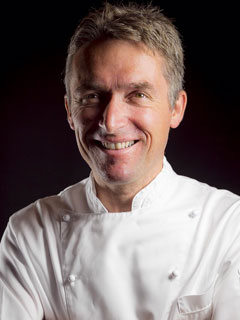 Two souls, two stars!
The restaurant Da Aurelio was a result of Gigi and Aurelio's combined passion. Gigi's father, Aurelio, opened the Rifugio Piezza at passo Giau forty years ago, in the same meadows where edelweiss flowers grow.
The Rifugio Piezza soon became renowned for its excellent cuisine, and from then on, known not only as an alpine hut, but also as a restaurant.
Today the establishment has a dual purpose: an excellent starting point for excursions in the Dolomites, and a paradise for gourmet cuisine.
Gigi takes special care in preparing his dishes and tasting menus, keen on experimenting and improving continuously, yet respecting the nature of the product and remaining loyal to the precious lessons of his father, Aurelio.
Gigi's invaluable coordinator, Annalisa, takes special care in the management of the restaurant.
Whether it's the beautiful flowers on the tables or overall presentation of the dishes, everything is studied in great detail.
The general atmosphere is warm and welcoming, yet with a touch of class.
The result of all these ingredients is a true recipe for "making people feel good."
One shall never get tired of coming back again and again!